At Limagrain Ingredients, we have developed a wide range of attractive puffed and
pre-gelatinised cereals
, produced with the unique Presco (for PRESsure COoking) technology. Our various ingredients meet the nutritional needs of pets and offer the highest digestibility of nutrients. In addition, they have an attractive smell and taste for your pets!
In order to meet your technical requirements, we provide pre-gelatinised cereals in different forms (pelletized, coarse and finer flours or granulates) and with a wide range of raw materials.
Our latest addition : Baby Oat Milled, the perfect functional ingredient made with 100% whole oat from European origin to provide your pets with a natural nutritional boost!
Oat is an excellent ancient grain for pets that offer higher energy and protein levels than conventional cereals, and that can be included up to 40% in their diet.
It's also a great source of dietary fibre, enriched in fermentable fibre to improve gut health.
In addition, oat has an excellent amino acid profile. It's richer in lysine than conventional grains, which is an essential amino acid for pet health that helps strengthen the immune system. It's also a grain full of linoleic acid to keep the skin healthy.
All these benefits make Baby Oat Milled a great functional ingredient to boost any pet food formulation.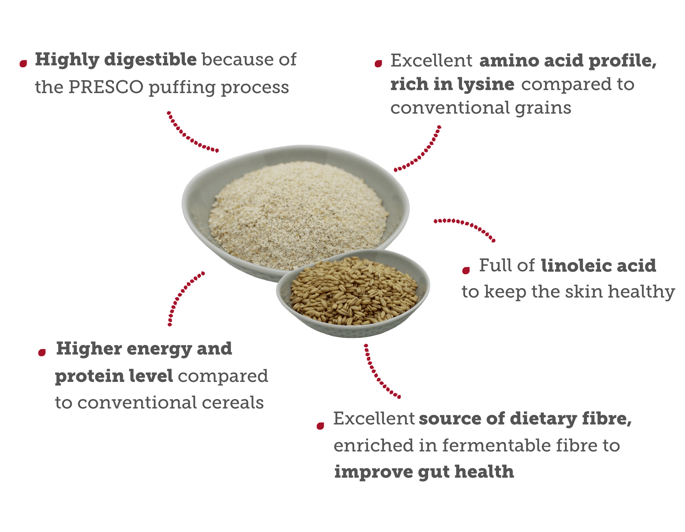 Download our
leaflet
or
contact us
now if you want to know more! Our R&D team is available to support you in your developments with Baby Oat Milled.