The tortilla chips market is constantly growing and consumers can't get enough of these salty snacks as they are a great comfort food. Tortillas are also the perfect choice for a good chip & dip combo...that's why we make it our priority to develop our masa flour range to create new and delicious tortilla chips.
Limagrain Ingredients launches its brand new Innosense white masa flour, made from 100% white corn.
This new addition to our masa range benefits from our strong expertise in masa flour thanks to our patented hydrothermal process that improves the consistency, shelf life and environmental impact of the masa flour.
For all your Tex-Mex products
The Innosense white masa flour will be perfect for lighter coloured tortilla chips, with a crunchy and delicious bite, making it easier to add inclusions to the recipe. Creating a white tortilla chips opens up the world of possibilities in terms of innovation: tortillas chips manufacturers can add seeds, chopped pulses, toasted grains, but also mix it with legumes or pulses flours for brighter and more attractive colour to the consumer.
Just like the other masa flours in our range, the white masa is 100% Gluten Free and GMO Free, and can also be used for other Tex-Mex products such as Gluten Free soft tortillas, tacos, corn chips, baked tortillas... and also pelleted and direct extruded snacks!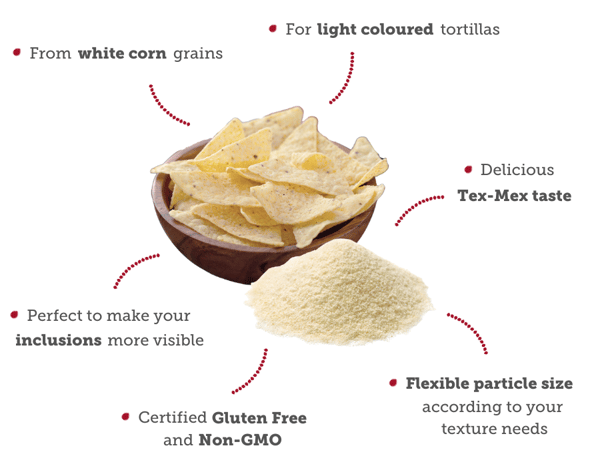 But don't take our word for it, give our Innosense white masa a go and enjoy!
Download our leaflet to learn more about the Innosense white masa flour a
nd don't hesitate to
contact us
if you have any question.