Products based on legumes have been used in pet food for many years, but there is a growing interest in their use. One driver has been the rapid growth of non-grain pet foods, but also the nutritional and functional properties are of interest in several applications in the range of pet food.
Limagrain Ingredients launches a heat treated faba bean flour product specially for dog food.
Historically, the use of faba beans in animal feeds has been limited due to the presence of antinutritional factors (ANF). However, recent advances in plant breeding have helped to reduce the presence of ANFs, while advances in animal feed processing technology means that the presence of certain ANFs can managed effectively.
Our new faba bean flour is an addition to our already existing pulse based portfolio for pets. It provides a formulation with greater nutritional values while helping manufacturers meet consumer demand for grain-free, clean-label and high protein pet foods.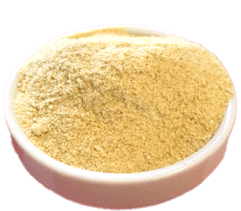 The faba beans undergo a special process in which the bean is heat treated. After this process the flour has a protein content of 28,8% along with pregelatinized starch, fiber and a small amount of oils.
Faba beans contain galacto-oligosaccharides which have prebiotic effect to improve animal health. Our process improves the availability of galacto-oligosaccharides and reduce anti-nutritional factors.
The faba bean flour is low-glycemic as well, allowing the pet to stay fuller longer due to slowed digestion.
The nutritional benefits of faba beans extend beyond the ones listed –– it seems like it can do everything. Other nutritional benefits include: high in B-group vitamins, high in iron, a source of calcium, phosphorous, zinc, magnesium and natural antioxidant.
Besides all that it is a versatile ingredient for applications in dry, wet and semi-moist with many attractive features. Their grain-free and plant-based status, microbiological stableness along with the sustainability factor makes them a great ingredient to use.
Contact us to know more:
Pierre.vanzon@limagrain.com
Christian.lienesch@limagrain.com