Quinoa is a highly nutritious edible seed native to South America, where it has been a prominent food source for 6000 years.
Coined as a superfood, quinoa provides a wide array of essential nutrients to both humans and animals. When heated the super food is safe for dogs to eat and considered as a very healthy addition to their diets.
Limagrain Ingredients launches a heat-treated quinoa flour product specially for dog food.
Our new PetFlour Quinoa is a great innovative launch to meet a rising market demand for higher nutritional benefits for dog food.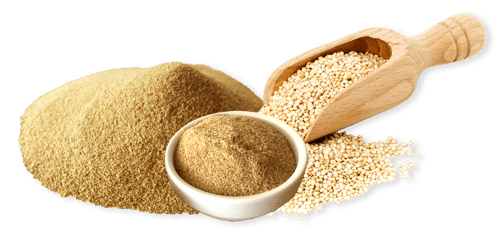 The quinoa undergoes a special process in which it is heat-treated. After this process the flour is very usable in many different pet food applications due to good flowability, nice hydration, dough processability and better availability of the nutritional benefits.
It is considered a healthy alternative to wheat flour since it has so many essential nutrients. Quinoa is one of the best non-animal food sources of complete protein, meaning that it contains all nine essential amino acids. It's also a fantastic source of fiber, B vitamins, and iron.
Besides all that, it is considered as a sustainable option as the quinoa is sourced locally in the Netherlands and Belgium.
Contact Limagrain Ingredients now to know more:
pierre.vanzon@limagrain.com
christian.lienesch@limagrain.de